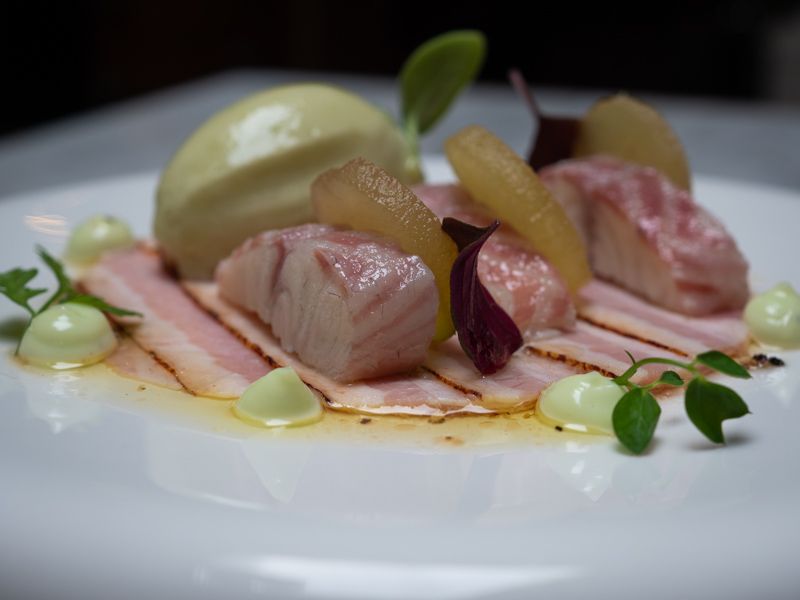 Suzie's en Van Aken combines French cuisine with beautiful Asian elements
Chef Tom van Aken dazzles, as he artfully combines French dishes with Asian flavours. As owner and chef of Suzie's en Van Aken, together with partner in business and life Suzanne van Haaster, he opened the restaurant in 2017. Within two years, they managed to put themselves on the map of the Michelin Bib Gourmand 2020. The unique French-Asian cuisine offers an exciting food experience that makes you want to come back for more!
I wanted to visit Suzie's en Van Aken for a while now and what better moment than to try their food in the first week that restaurants opened again after the lockdown.
I entered the pretty entrance of Suzie's en Van Aken restaurant in Oegstgeest, I immediately noticed zen-like atmosphere. The host's friendly welcome matched the interior's warm earthy colours, as I was led into the restaurant through an oasis of plants against a backdrop of light wood.
I took a seat at a table near the kitchen. I felt a sense of calmness as I observed the restaurant. The sounds of utensils and the chatter among the kitchen crew, the soft murmur of the restaurant guests, and the slightly upbeat lounge music that came from the speakers made me feel alive again after so many months of having been in lockdown!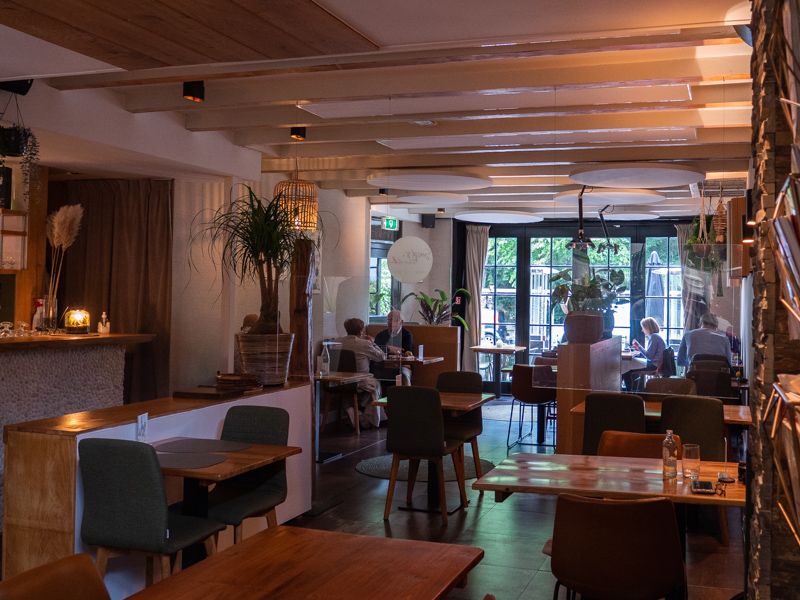 Pork belly and smoked eel
My first course was a slow-cooked pork belly bacon served with smoked IJsselmeer eel, wasabi mayonnaise, pickled green apple and a sorbet ice cream of green apple and yuzu. The vinaigrette was made from Sambai Japanese vinegar, a fermented soy vinegar.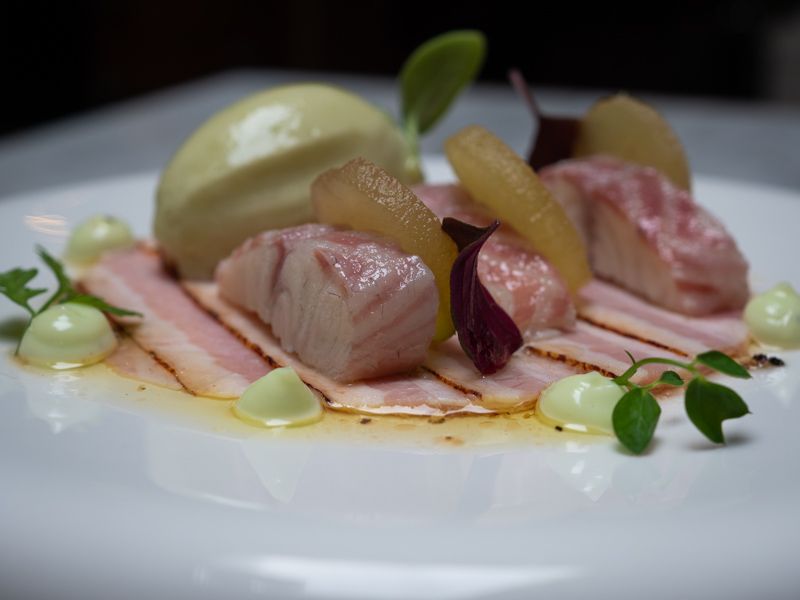 I loved the subtle smoky flavours of the smoked eel, it just worked so well with the pork belly. The cold ice sorbet was the absolute surprise element on my plate! What I thought was so well done of this dish was that each element served a purpose individually. And as you combine all the flavours together, they make the dish come alive so to speak.
There was the freshness of the yuzu and the apple in the sorbet, which felt like a soft breeze on a summer day. And then there was the sourness of the pickled pieces of apple which touched my palate like a kiss of an angel. What a wonderful dish altogether. I got sweet and sour, and the sambai soy vinegar gave it a nice finishing savoury touch.
Duck liver and lobster
Next up was the duck liver mousse and Norwegian lobster dish. The lobster was served raw but roasted on one side. It was complemented with Chinese vinegar, pickled vegetables, rings of shallots, white radish (also known as daikon) and capers leaves. The broth underneath the duck liver was a dashi broth, made out of seaweed and bonito flakes. The dish was topped by crispy potato 'cracklings' covered in algae powder.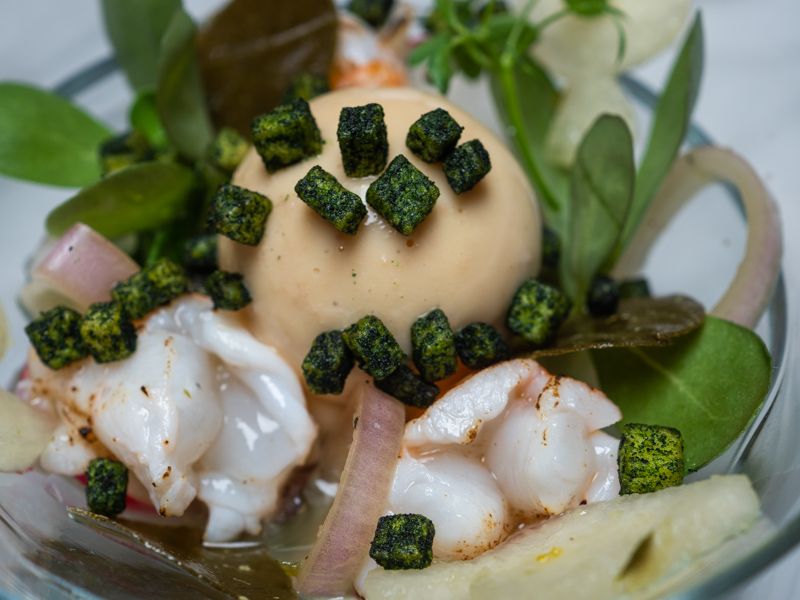 The dish looked so light and refreshing to begin with, but when I took the first bite, there was such a beautiful complexity to it. First of all, the duck liver mousse. Wow. I would like to have more of that! Such a comforting, creamy and soft texture and the flavour of the duck liver was extremely light, which I didn't expect. I loved the pickled vegetables and the sourness of the capers leaves.
The crunchy algae-covered potato 'cracklings' gave the dish a nice crunchy texture, but at the same time I could taste the flavours of soft moss from the algae. I tasted the broth separately and I could've eaten a bowl of that on its own. What a superb dish!
Oyster and string beans
My next course was a Fine de Claire oyster laid atop a bed of 'spaghetti' string beans, in a sauce of egg yolk cream and parmesan gratin, a touch of fermented black beans sauce and finished off with a string beans-infused gelatine and foam.
When I took a bite, I first tasted the fresh oyster combined with the egg gratin sauce. But then the explosive flavours of the fermented black bean sauce followed straight after.
It was such a heart-warming dish. I really liked how the umami taste of the parmesan and the black bean worked so well with the subtle sea flavours of the oyster. Such a unique dish and something I never had before!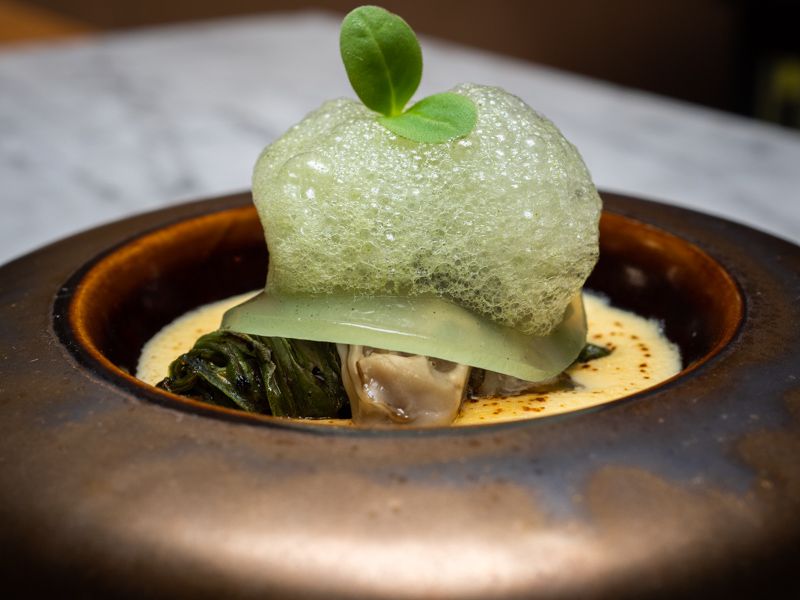 Secreto Iberico pork with pak choi and green asparagus
I was coming towards the end of my four-course lunch, and this dish was probably my favourite. The dish was a slowly grilled Secreto Iberico pork, with roasted pak choi and green asparagus, and served with pommes souffles. It was finished off with a gravy of cooked ginger and carrot sauce, cream of black bean and some fresh purslane.
The ever-so-subtle flavours of the grilled Secreto Iberico was simply sublime. The tender and juicy meat, combined with the black bean made my heart do a little happy dance.
I loved this Chinese-inspired dish. The black beans and the sweet and slightly tangy ginger and carrot sauce tasted so good with the Iberico pork.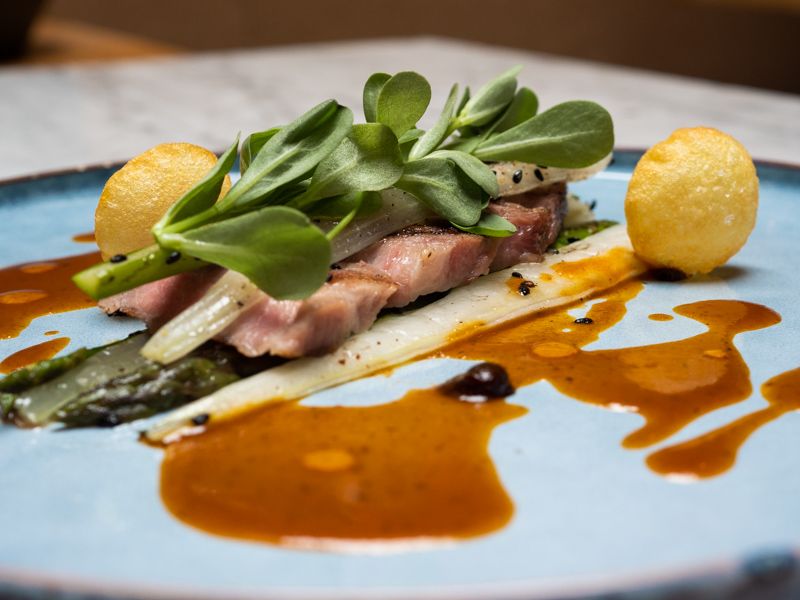 French cuisine with a dash of Asian
As I was enjoying my last bite of the delicious Iberico pork dish, Chef Tom van Aken sat down with me to talk about his concept and where his Asian inspiration comes from.
He explained, "I love Asian food and then putting my own twist on it. I get my inspiration from travelling and eating out a lot. We've travelled all around Asia, from Japan to Thailand, Cambodia, Laos and Vietnam. Last year, we took a trip to Bali, Lombok and the Gili Gili Islands. I'm just fascinated with all the different flavours across Asia."
To me it's really simple: I cook what I love to eat
Classically French-trained, Van Aken opened Suzie's en Van Aken two years ago together with his girlfriend Suzanne (Suzie). Partners in business and in life, the two met when they both worked at the same restaurant.
"It was love at first sight," he reminisced with a smile. "Suzie had her own business selling American-style cakes and pastries, and we thought why not combine it and make one restaurant?"
After having gained experience in other restaurants, Chef Van Aken couldn't wait to create his own dishes. "I was ready to draw from my own ideas and creativity and to have the freedom to make my own food.  To me it's really simple: I cook what I love to eat."
Van Aken continued to say, "We combine all our dishes with a great choice of wines. I also let my staff taste all the dishes with the right wines so that they understand the pairings as well. To me, these tasting sessions are important. This way, my team can ask questions and in return I get great ideas from them."
Van Aken has two students working in his kitchen from the ROC college and the Cas Spijkers Academy. To Chef Van Aken, it's important to train the next generation of chefs.  
Honeycomb, ginger and orange
I finished off my lunch with a beautiful dessert that consisted of honey, orange, carrot and ginger elements. It had a merengue of carrot, layers of an orange jelly and ginger atop one another, a piece of white chocolate made from an imprint of bubble wrap, a honeycomb of caramelised honey and baking soda, and a dollop of vanilla and confit ginger ice cream. The droplets of the pine needles syrup added an extra sweet finishing touch.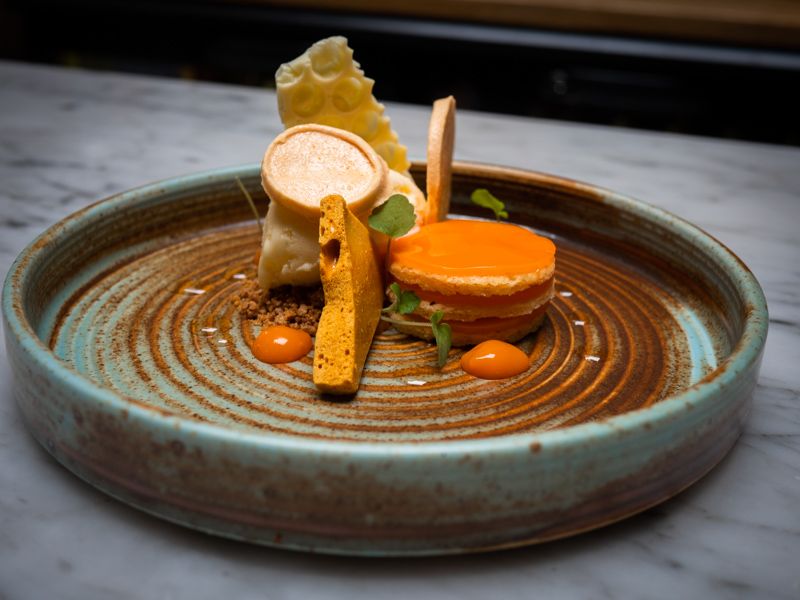 What a lovely dessert to finish off the amazing lunch at Suzie's en Van Aken. The more robust flavours of the honeycomb were skillfully balanced with the sweet vanilla ginger ice cream. Absolutely delicious.

Suzie's en Van Aken is well worth the visit. You can choose your dishes and put together a three to six-course menu starting from €39. The restaurant is located in the small town of Oegstgeest, which is near the city of Leiden.

Suzie's en Van Aken
Geversstraat 63A
2341GC Oegstgeest
Open Monday - Saturday from 17:30.
Open for lunch every Friday 12.00 – 14.00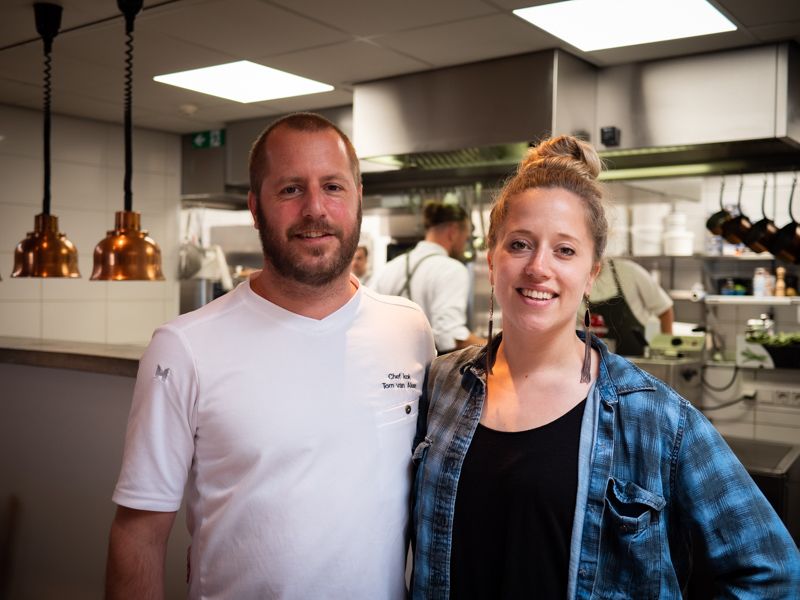 Join the newsletter to receive the latest updates in your inbox.