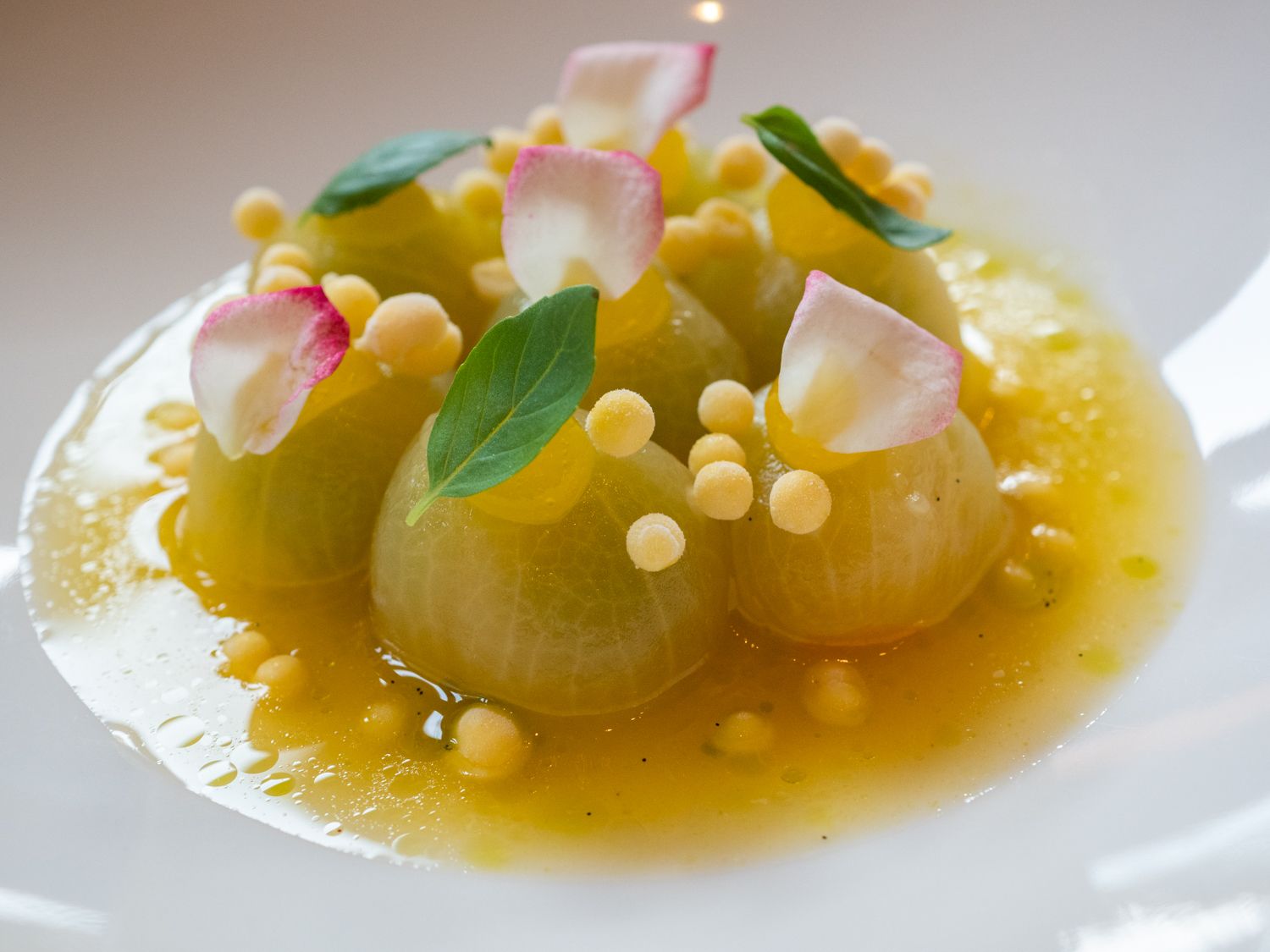 Food that brings joy at Jaimie van Heije
Chef Jaimie van Heije shows his talent through the fresh and complex flavours that are infused in his artfully decorated dishes. Located in Ouderkerk aan de Amstel, a charming little village near Amsterdam, his fine dining establishment is worth the drive if you're from out of town.
Upon entering the restaurant, the artwork-covered walls immediately caught my eye. Large, colourful paintings set the interior's atmosphere. Signed by Selwyn Senatori, apparently, this Italian-born Dutch artist's inspiration is 'La Dolce Vita', the good life. I was immediately intrigued!
A Sumptuous September menu
The restaurant works with a monthly three-course lunch (€45) and a five-course dinner menu (€80).  I was already in love with the September dinner menu when I saw it on the website a week before visiting! Hamachi, pork belly and tenderloin amongst other items were part of the five-course menu.
'Pornstar Martini'
"Whaaaat" and "wooooow" were the two words that came out of me when I first took a bite of this delicate but flavour-packed dish.  Chef Jaimie served this dish himself. From a bowl filled with liquid nitrogen frozen beads, he placed them across the dish. I was so mesmerised that I completely forgot to ask what the beads were made of.
Pornstar Martini as the dish is called was made up of beautifully sweet marinated tomatoes with a slight hint of sour of the passionfruit and champagne sauce. It was like a tropical party in my mouth! I absolutely loved this refreshing 'martini'.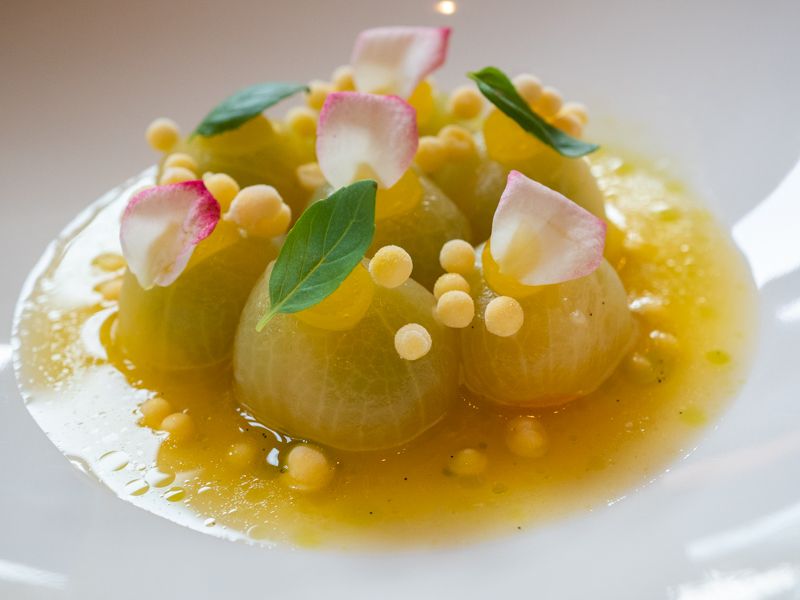 Hamachi
The next course was a fish dish using Dutch yellowtail. Cucumbers set up as little containers for the yellowtail, it was the cream of horseradish that really brought all the flavours together. The only thing that was missing when I took a bite was a shot of high-grade sake. Maybe I can convince the chef the next time I'm there to put it on their menu 😃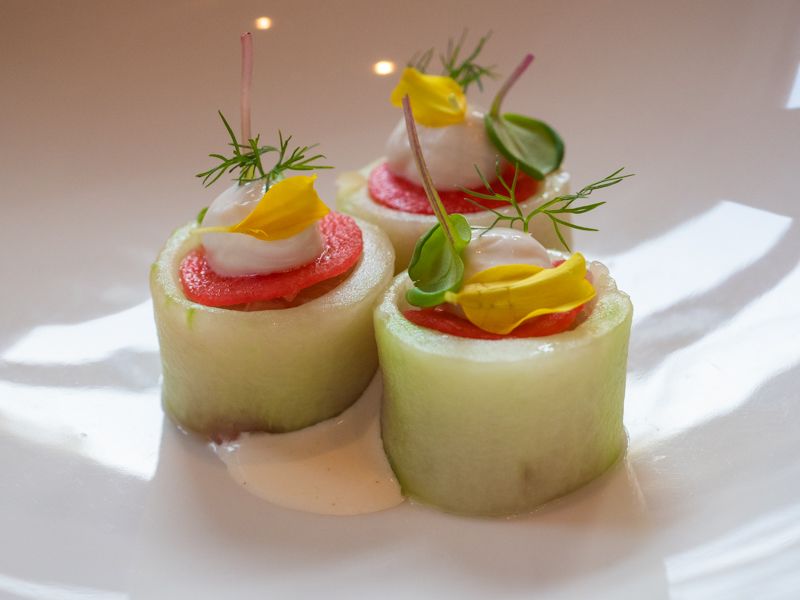 Pork belly
This dish could have been called 'You Had Me At Pork Belly'.
Served in a dashi broth, the crispy pork belly was simply divine. The dashi broth had an excellent umami taste. And placed ever so gently on top of the pork belly was a colourful array of herbs and salad leaves. It was absolutely divine.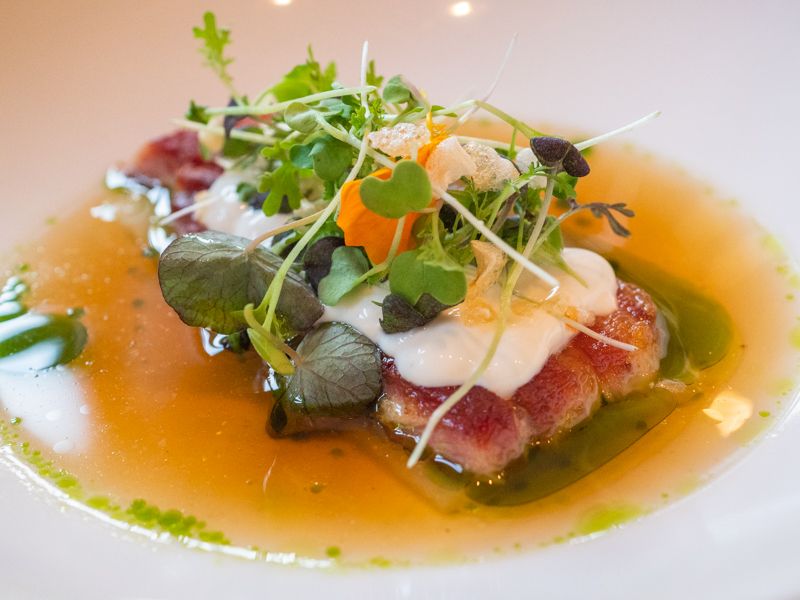 Beef tenderloin
The final dish was beef tenderloin with a mix of mushrooms such as truffles, chanterelles and oyster mushrooms. Laid atop a smooth sauce the chef calls umami sauce, I couldn't be happier when I took the first bite. The meat was super tender, and the sauce was…. indescribably delicious. When I asked what was in the sauce, the server said it was a secret recipe. And rightfully so! There was a hint of caramel which made it addictive. Maybe I should go back and order the dish again to further investigate the mystery of its flavours!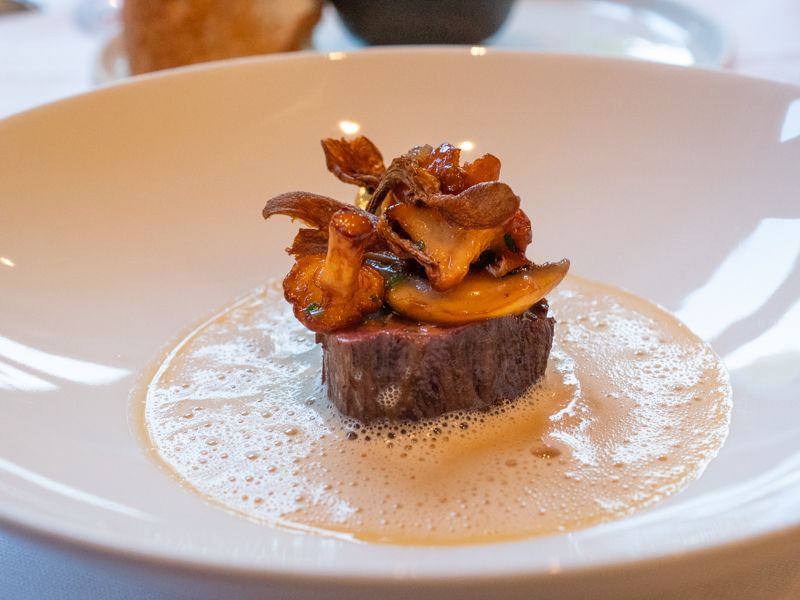 Dessert: cheese platter
There were a few dessert options to choose from the menu. But I had to have some cheese to close the dining experience at Chef Jaimie's.
On my plate were four different types of cheeses:
• Picobello
• Roodbloem
• Old Alkmaar
• Brabant blue cheese
From a blue cheese to a 36-month aged cheese, I always love me a cheese platter. Then accompanying the cheese were dollops of raisin, pear and fig compote.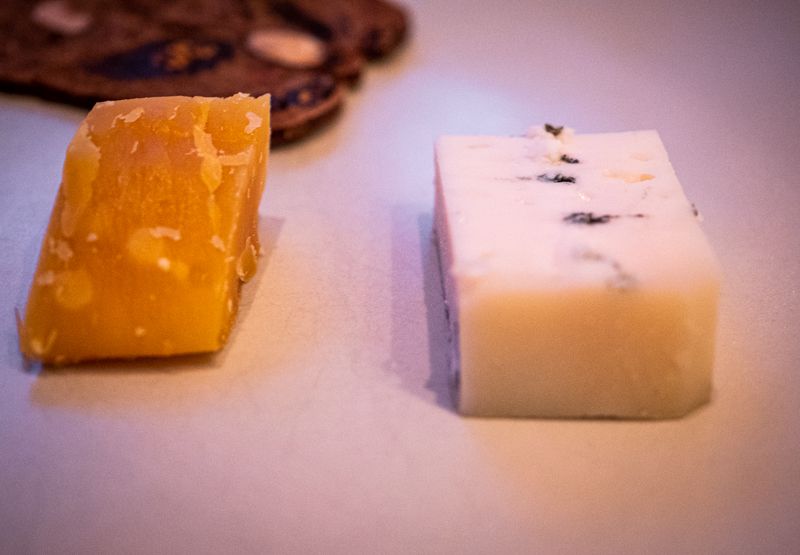 I wanted to ask for a glass of old port but as I was driving, I left that idea for another time.
Gado-gado haute cuisine-style
Chef Jaimie van Heije has Indo roots, which means his grandparents came from the Dutch-Indies. Sometimes he would put a dish on his menu with influences from his grandmother's kitchen. This was actually what drew me to try Chef Jaimie's food. But Chef Jaimie told me that he hasn't put any Indo-influenced dishes on the menu. He did however say that he might put a version of his granny's gado-gado recipe back on the menu again. My heart did a little dance when he said that. That would be so awesome!
Jaimie van Heije's food is not only exquisite, but there's a bit of fun to it as well. And that just gave me a lot of joy, is the right word to describe my experience.
Could it be that it has something to do with Jaimie's passion for sneakers? ;-)
Perhaps I'll find out when I can get some time with Jaimie to find out more about his inspiration….
Restaurant Jaimie van Heije
Kerkstraat 56,
1191 JE Ouderkerk a/d Amstel
Lunch Thurs - Mon 12.00 - 14.00
Dinner Thurs - Mon 18.00 - 22.00
Closed Tues and Wed.


Join the newsletter to receive the latest updates in your inbox.