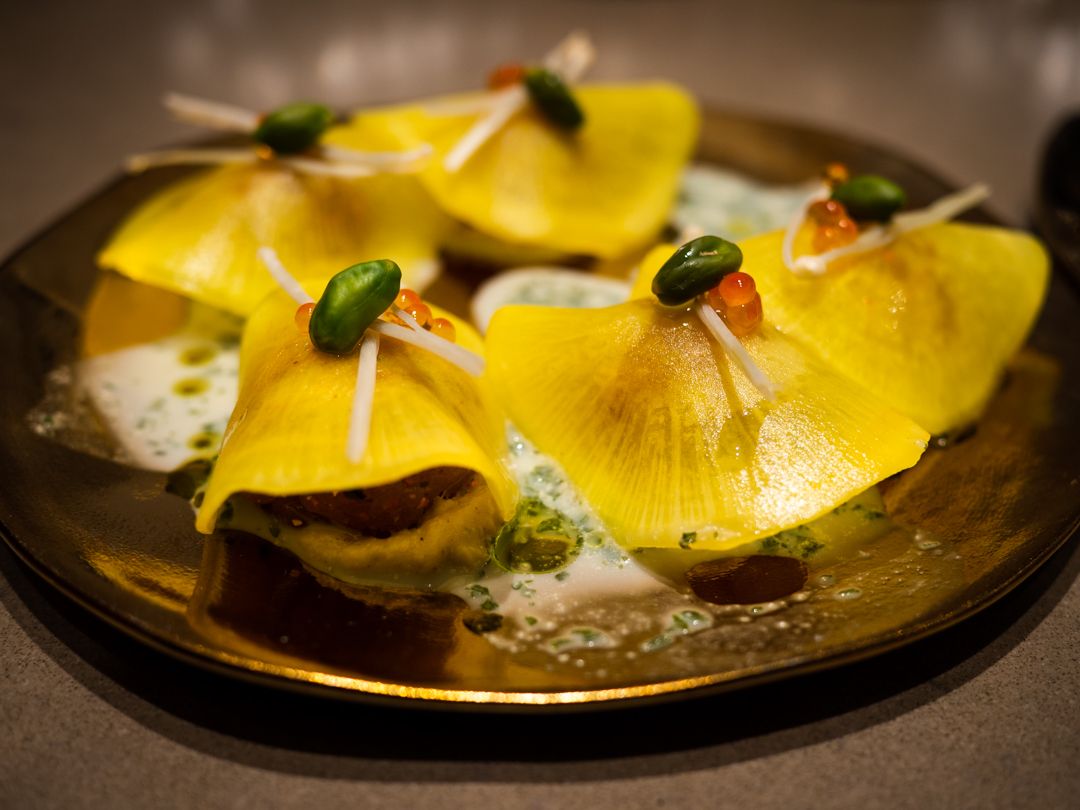 Dinner by Kelvin Lin – The Maldivian experience
With his Dinner by Kelvin Lin @ Home concept, Chef Lin has continued to provide his patrons with delicious menus every month. This month's menu is based on Maldivian cuisine; that means a lot of fish and flavours from neighbouring country India.
Ah the beautiful Maldives. A group of idyllic coral islands where the beaches are stunning, the water as blue as the sky and where the underwater wildlife is breathtaking.
I've been to the Maldives once, it was for a diving trip back in the 90s. I don't quite remember what the food was like. Dinner was included in the accommodation package as a buffet option and there were many dishes to choose from every night. The only thing I can remember from that buffet is that there was a lot of tuna, some curry dishes and rice. I guess back then I logged all my dives but not my food!
The Maldivian Experience
Chef Lin's March menu was developed in cooperation with Indian Chef Atul Bisht who works and lives in the Maldives. The four-course menu includes a tuna, salmon and lamb dish, and a wonderful surprising dessert called Green Curry!
The great thing about Chef Lin's menu is that he prepares the dish for 80% and all you need to do at home is warm up the fish or meat and plate it up. His menu comes with a clear instruction video so that you don't mess it up….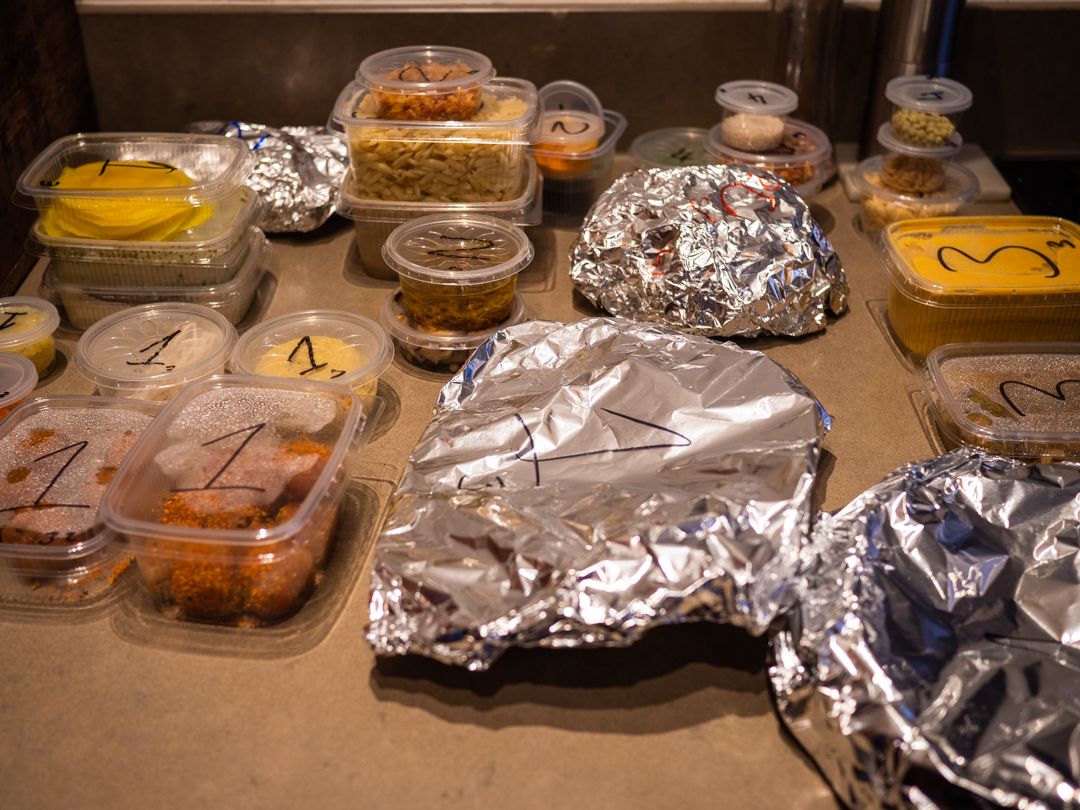 Bonito Crudo
When I saw bonito tuna on the menu I was sold. I knew this dish was going to be delicious. But Chef Lin took it to the next level, again. The dish consisted of small raw tuna balls, infused with spices, layered with a slice of kimchi, and then on top of that were enoki mushrooms, salmon caviar and a pistachio nut. It was then finished off with a light creamy vinaigrette sauce. The side dish that came along with this course was a flavourful pappadum cracker. Bonus! Because I love pappadums!
True to Chef Lin's style, in one bite I tasted sweet, sour, savoury and umami with soft and crunchy textures all at once. This Bonito Crudo dish was absolutely divine.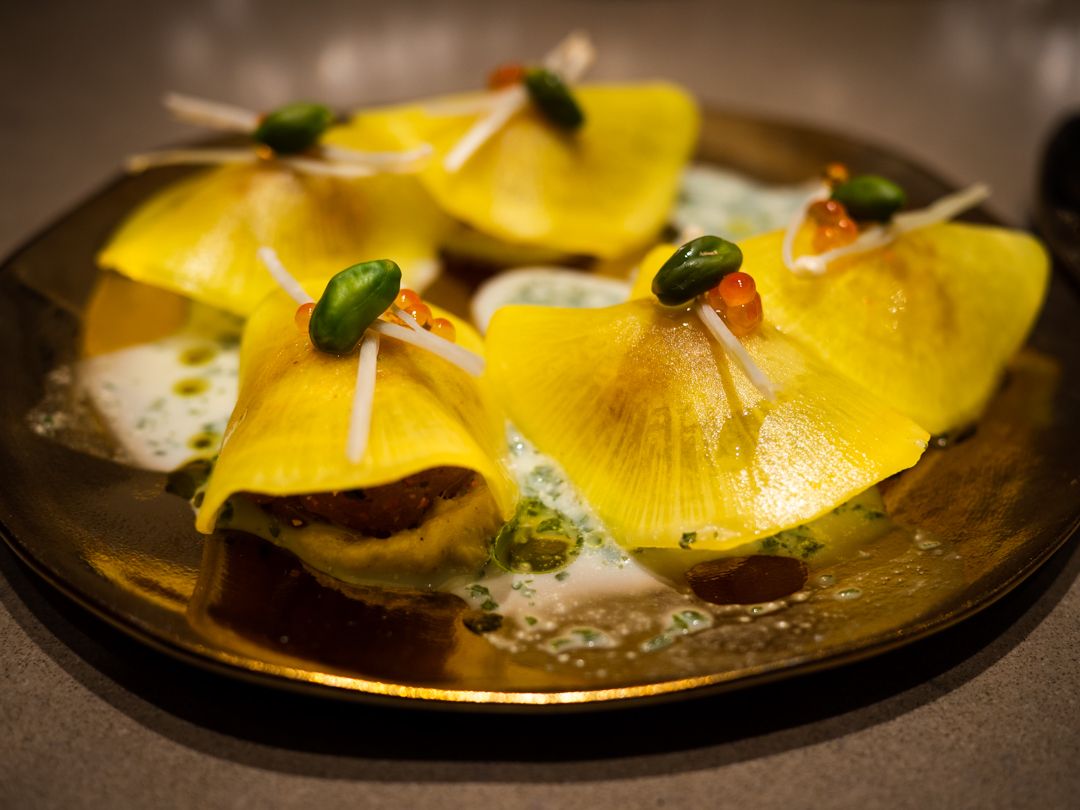 Shetland Salmon
I've had Shetland salmon at Chef Lin's restaurant before. The quality of the salmon that he serves is always the very best. For the menu, the Shetland salmon dish was served with a long grain type of rice, prepared in a creamy mushroom sauce. The dish was finished off with an olive oil, soy and cardamom mix, a bit of crunch, chives and a splash of massala. The soft flavours of the salmon combined with the al dente textures of rice, layered with the earthy tones of the mushrooms were so perfect together. This dish was so comforting I wanted to use it as a soft warm blanket on a rainy day.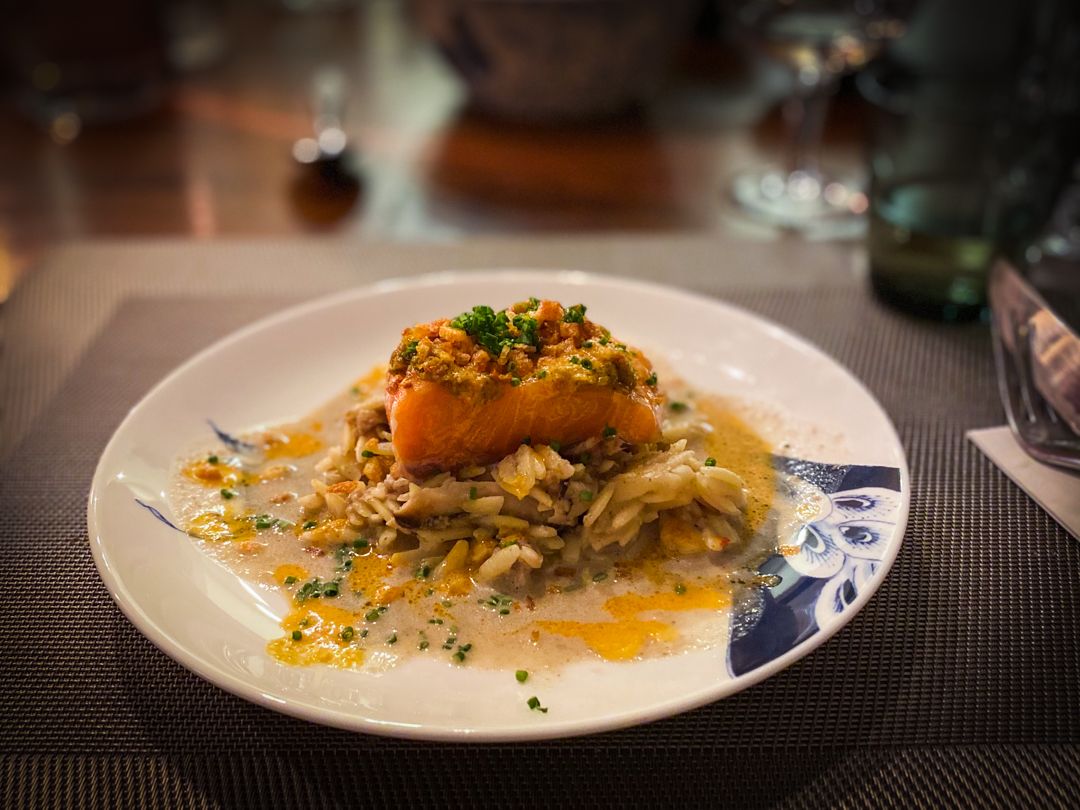 BBQ Lamb Indian Curry
Grilled on a Japanese grill called 'shichirin', Chef Lin wowed me with this lamb dish. He explained that the lamb was grilled on a special type of coal to give the meat a light smokey and roast flavour.
The lamb marinade was a special mix of different spices that included fenegreek and dried onion amongst other spices. What I loved about the dish was the simplicity of the components combined with the complexity of the flavours, which reminded me of the food I had at a small roadside restaurant in Bangalore many years ago.
The lamb, which was grilled to a perfect pink colour in the centre, was accompanied by baingan bharta, which is an Indian eggplant dish. It was then finished off with slightly spicy curry sauce. It a little piece of India on a plate. What a gem that was.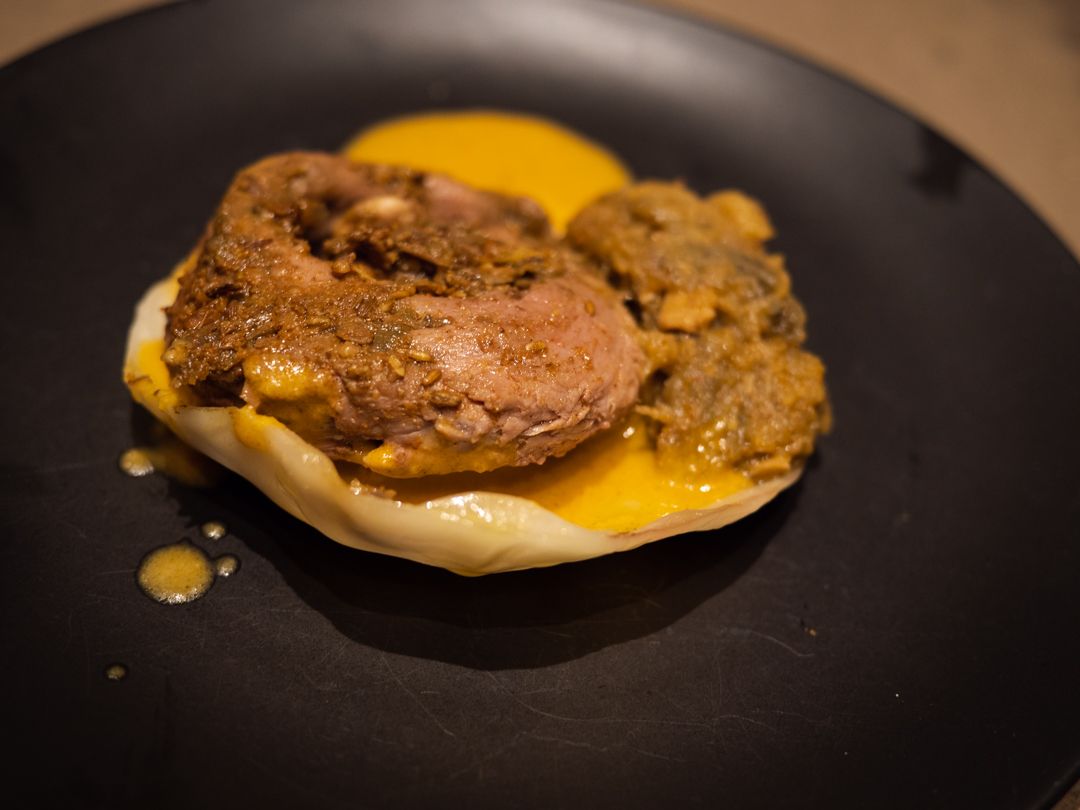 Green Curry Dessert
The last dish on the menu was a very special one. The dessert combines sweet and savoury, crunchy and soft textures. I absolutely loved this dish. Not only because of its colourful presentation, but just the richness of each bite and how each surprising element takes you to a new Asian dessert world. At one point I thought I tasted a hint of curry followed by a dash of pandan. And then there were peanuts, herbs, coconut, pandan, macha ice cream….it was as if all the countries in South East Asia were celebrating in my mouth. And what a party that was!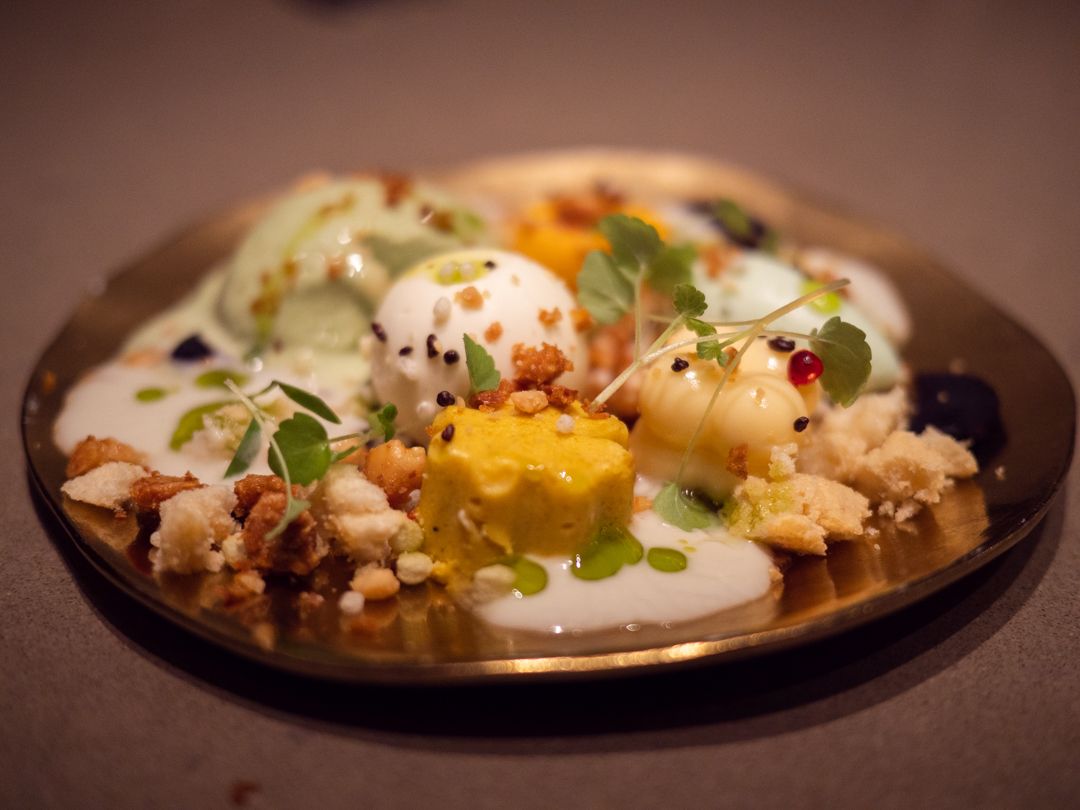 I was completely mind-blown with this menu. Each dish had its own special flavours to represent the Maldivian theme. I'm curious to find out what Chef Lin has in mind for future menus. Let's all hope we can dine in soon and that all restaurants and bars will open before summer!
Chef Kelvin Lin
The first time I visited Chef Kelvin Lin's lunchroom restaurant Nayolie seems a lifetime ago. Since then, Chef Lin has relaunched his restaurant and has built quite the reputation with his progressive Asian cuisine. He won the Gault & Millau Awards 2020 as best Asian restaurant of the year and he continues to develop new and innovative ways how to present and represent Asian food.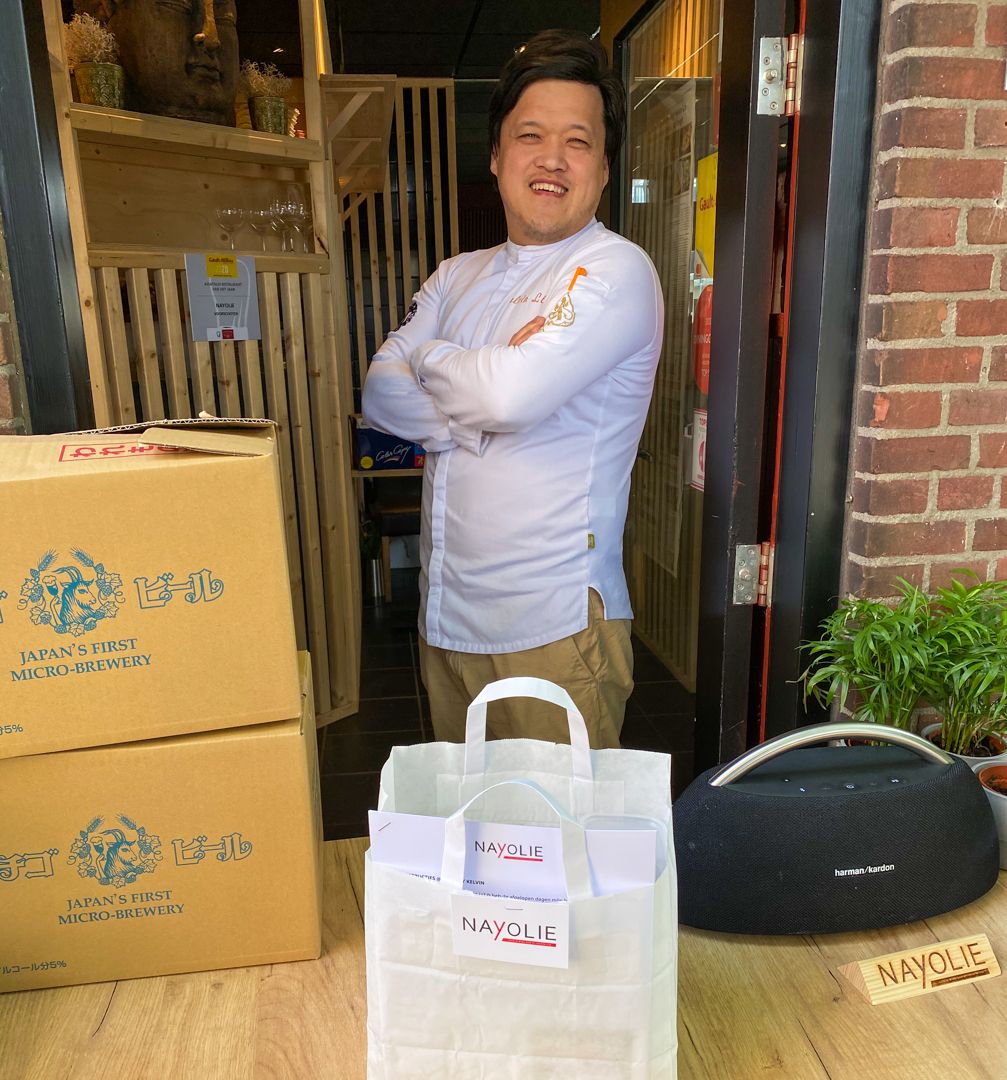 If you're interested in Chef Lin's Dinner By Kelvin Lin April menu, follow him on Instagram @nayolie.
Nayolie
Kerkplein 5
2251 BS Voorschoten
Join the newsletter to receive the latest updates in your inbox.