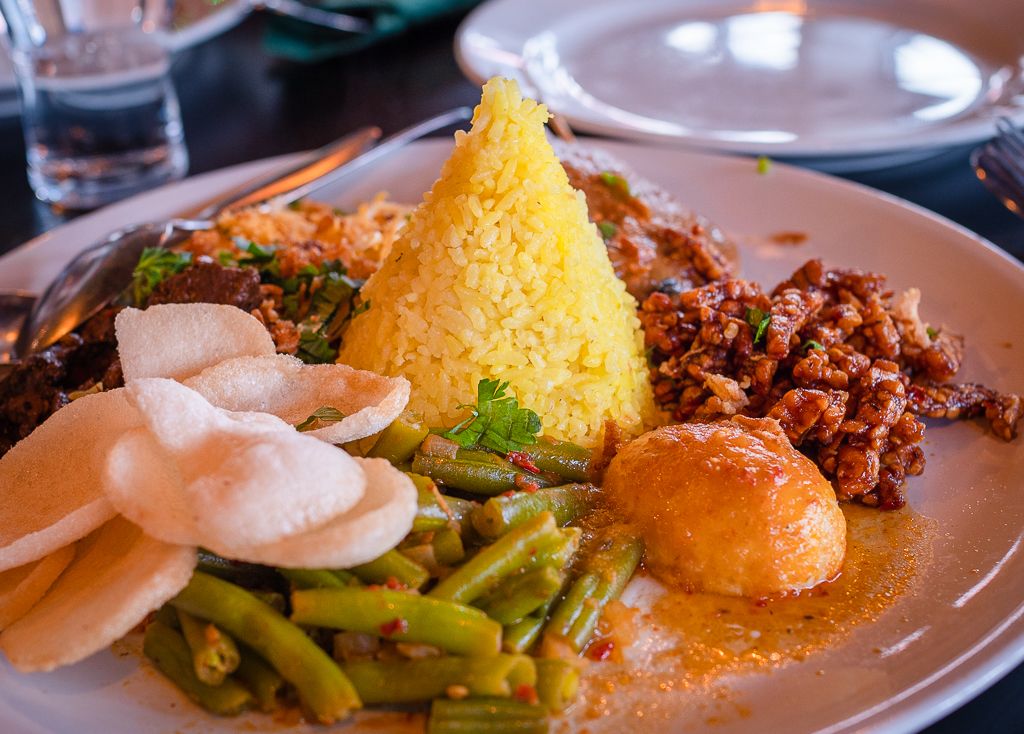 10 Indonesian must-try food stops in The Hague
The Hague is also known as 'the Widow of the Dutch Indies'. After World War II and through the 1960s, hundreds of thousands of Dutch, Dutch-Indonesian and Indonesian-Chinese people amongst others, repatriated to the Netherlands. For many, it was the first time they had ever set foot in the Netherlands.
These repatriates settled all over the country, but many of them found their new homes in and around The Hague, a city on the west coast. Today, you can find many Indonesian restaurants, eateries and food shops (endearingly named 'toko's' the Indonesian word for shop) in this beautiful city behind the dunes.
If you are visiting The Hague, try adding these iconic Indonesian restaurants or food shops to your itinerary. Here are just ten of my personal favourites – in no particular order:
Trio Eethuis
Trio Eethuis is famous for their mie ayam or chicken noodles. They take inspiration from the famous Bakmi Gajah Mada (a popular chicken noodle dish from Jakarta) and it's a really, really great version! Apparently, Indonesian visitors from all over Europe travel to The Hague to just eat Trio's mie ayam. The noodles are freshly made, making this dish one of the best mie ayam in the Netherlands (in my opinion).
Their other popular dish is the pempek-pempek, an Indonesian fishcake dish which originates from Palembang in Sumatra. The owner of Trio is from Palembang, so he definitely knows what he's talking about!
Trio Eethuis
Annastraat 9,
2513 AT The Hague
(The Hague centre)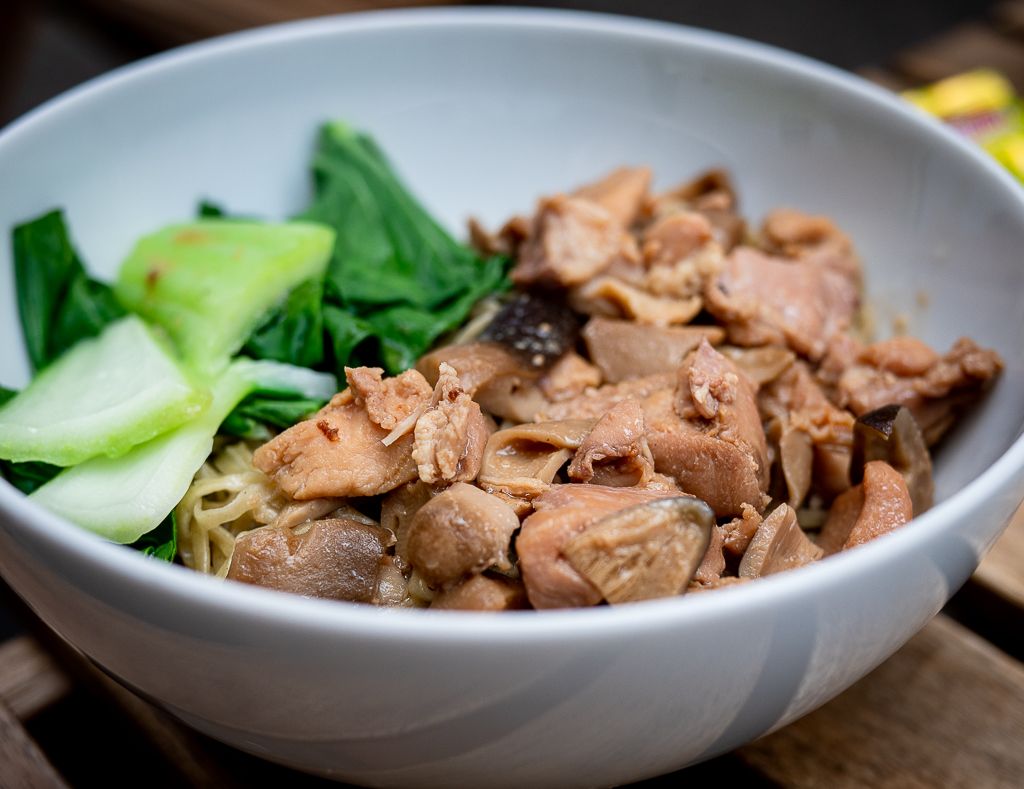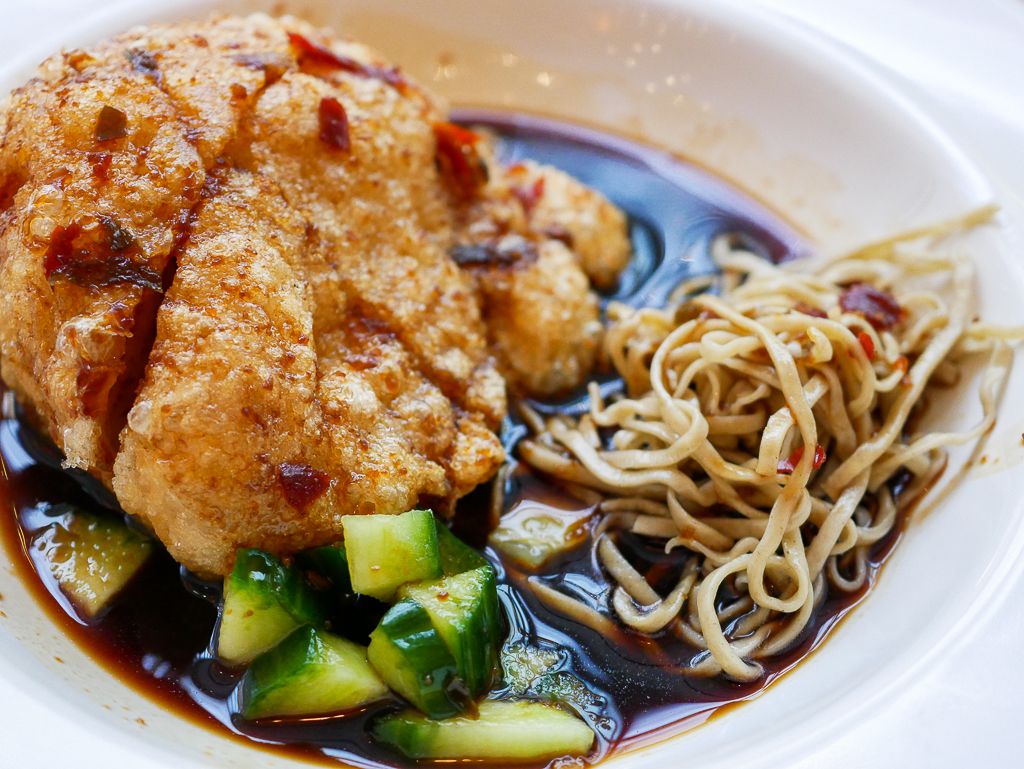 Bumbu Jawa
One of my favourite dishes that this lovely restaurant cooks up is a dish called nasi tumpeng, traditionally eaten during celebrations and festivals. Its bright yellow, cone-shaped rice is typically served with various smaller dishes including beef rendang, fried chicken, vegetables and more.
There are lots of other dishes to choose from, but I recommend trying their satays as well, they're pretty decent!
Bumbu Jawa
Wagenstraat 63
2212 AP The Hague
(The Hague Centre)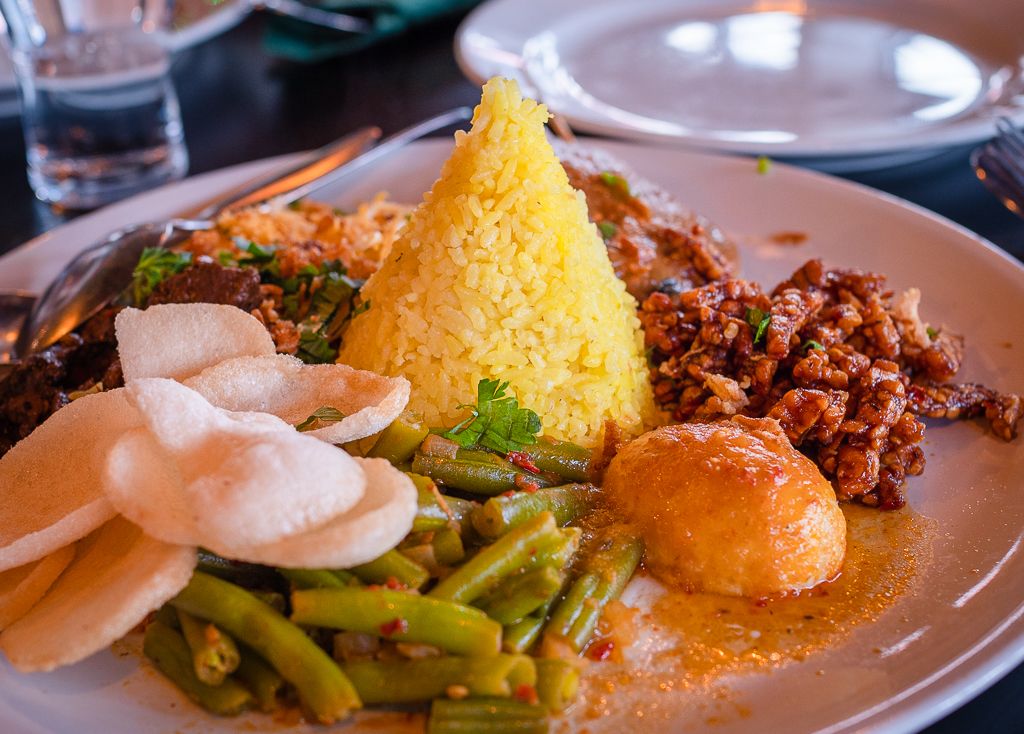 Kopi Kopi
This cosy little restaurant, located near the lively Plein in The Hague, is owned by a lovely family. Dea and her mother Debby run Kopi Kopi with a lot of love and passion.
When I tried their Bubur Ayam Sukabumi for the first time, it took me straight to my childhood and spending time with my grandparents in Bandung. Bubur ayam essentially is rice porridge with shredded chicken, filled with a beautiful Indonesian chicken soup broth. It's then topped with delicious crunchy condiments such as peanuts, fried bread, fried shallots, and scallions. Eating this dish is like wrapping yourself in a warm blanket of love.
What the restaurant does so well is serving beautiful vegetable dishes such as gado-gado, a vegetable salad coated with peanut sauce and tahu telor, an omelette with beansprouts and peanut sauce.
Visit Kopi Kopi and you will be treated with warmth and love.
Kopi Kopi
Korte Houtstraat 8A,
2511 CD The Hague
(The Hague centre)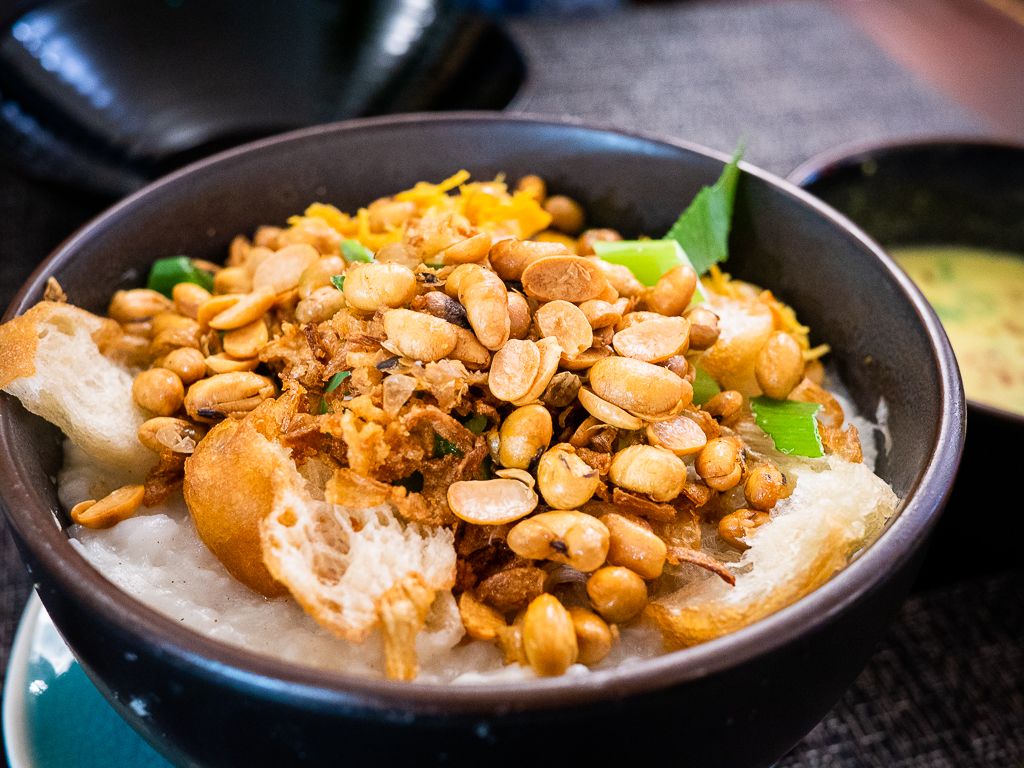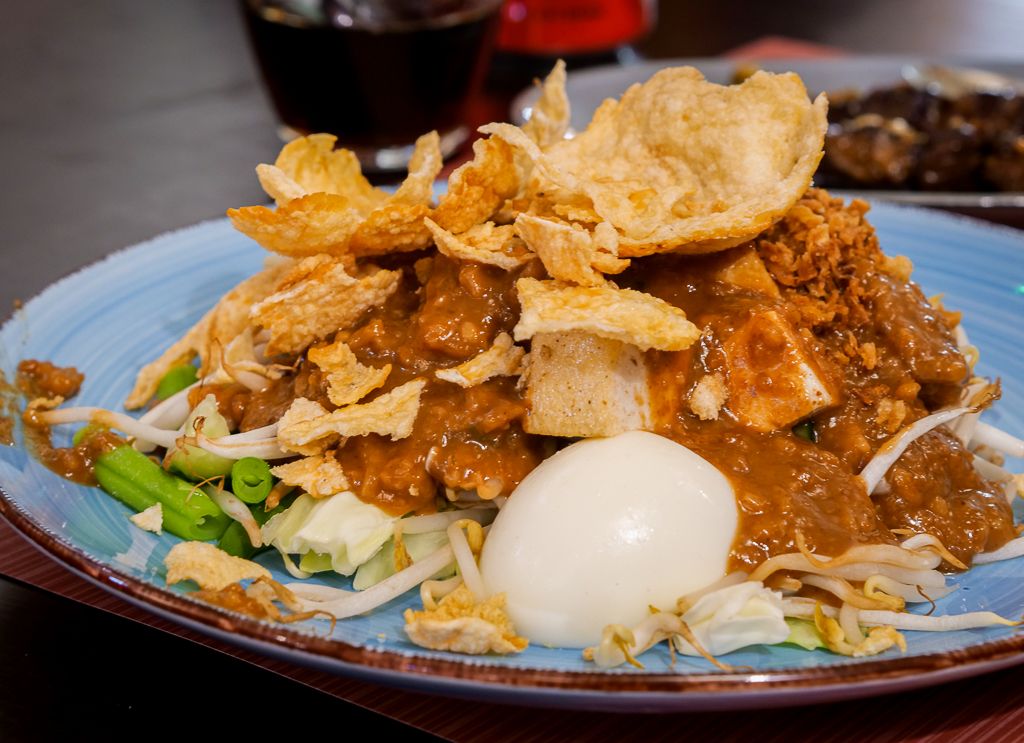 Julia - Indo Sweets & Treats
Julia Indo Sweets & Treats changed their name from Buis a few years ago, who were the original founders of the Indonesian cakes and sweets shop. For many years, Buis originally was the local fish monger, but over the years grew its popularity amongst the Indonesian residents and they started selling Indonesian cakes and snacks.
Current owners Michael and Sandra took on the reigns and rebranded the shop as their own, but keeping some of the most loved dishes that Buis sold in the past.
As far as I know, Julia Indo Sweets & Treats is one of the few shops in The Hague that sells freshly baked Indonesian cakes. Their specialty is kueh lapis, a layered cake that comes in all colours and flavours, including durian!
Julia – Indo Sweets & Treats
Weimarstraat 169-A
2562 HE Den Haag
(Regentessekwartier)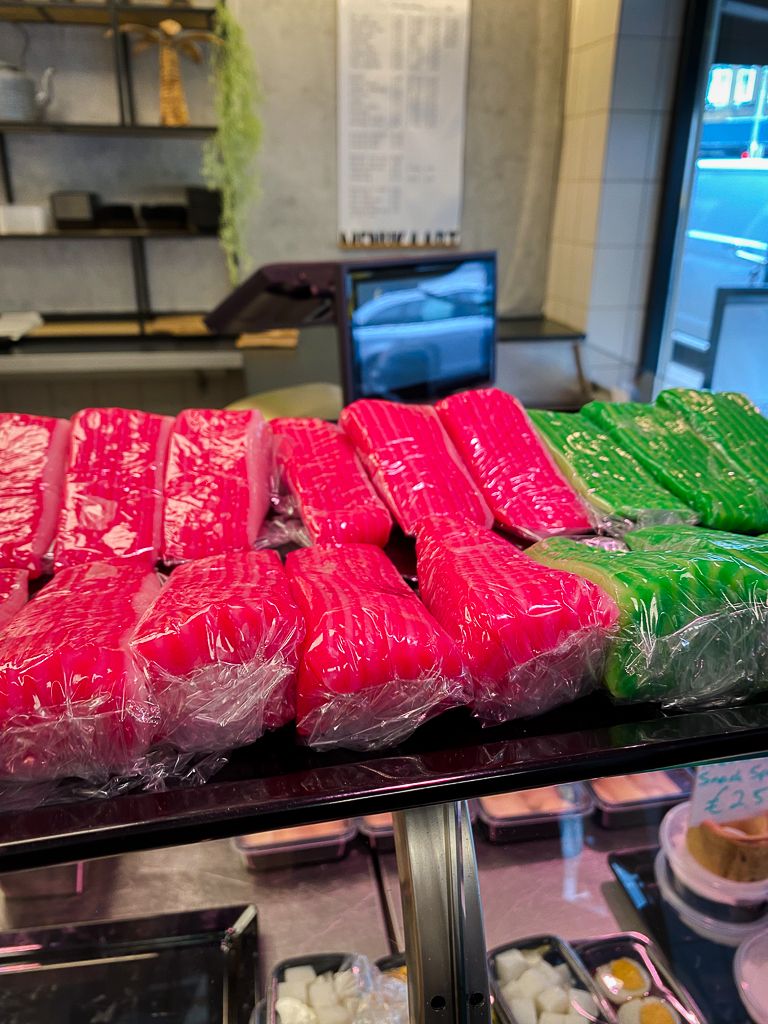 Toko Semarang
Toko Semarang is another well-known Indonesian food shop in The Hague. Since it opened in 1953, people in the local neighbourhood have enjoyed their freshly made Indonesian sweets and snacks as well as ready-made meals and other dishes.
Their most popular snack is the lemper, a sticky-rice roll, filled with chicken and spices. Personally I think Toko Semarang sells one of the best lempers in The Hague and perhaps even in the Netherlands!
Toko Semarang
Danckertstraat 77
2517 TG Den Haag
(Duinoord)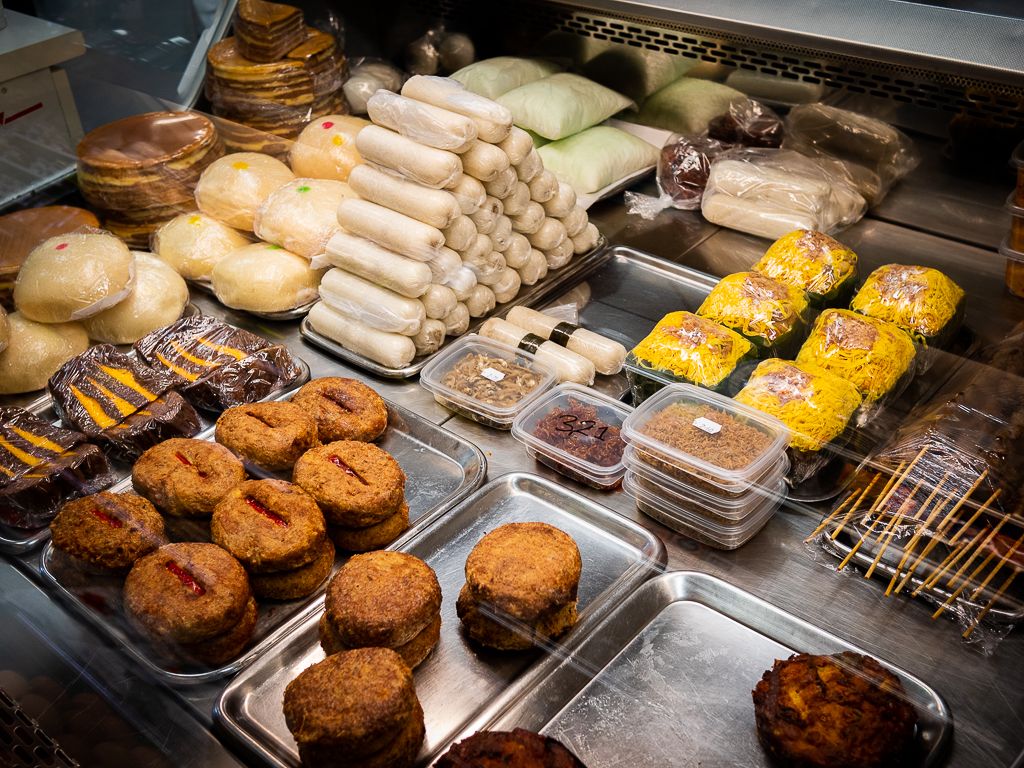 De Javaan
Located in the beautiful Statenkwartier, De Javaan's tiny kitchen serves loyal customers who come back time and again to savour their delicious food. Their colourful outside seating area is perfect for a summer meal. All other seasons of the year, De Javaan is open for taking home freshly made Indonesian food.
De Javaan is all about comfort food. From BBQ satays, fresh seafood and spicy meat dishes, De Javaan's got it all.
Their star dish is cashew chicken. Sweet, salty, sticky and crunchy all at once, one bite of this iconic dish and you're sold. And that's guaranteed!
De Javaan
Aert van der Goesstraat 45
2582 AJ The Hague
(Statenkwartier)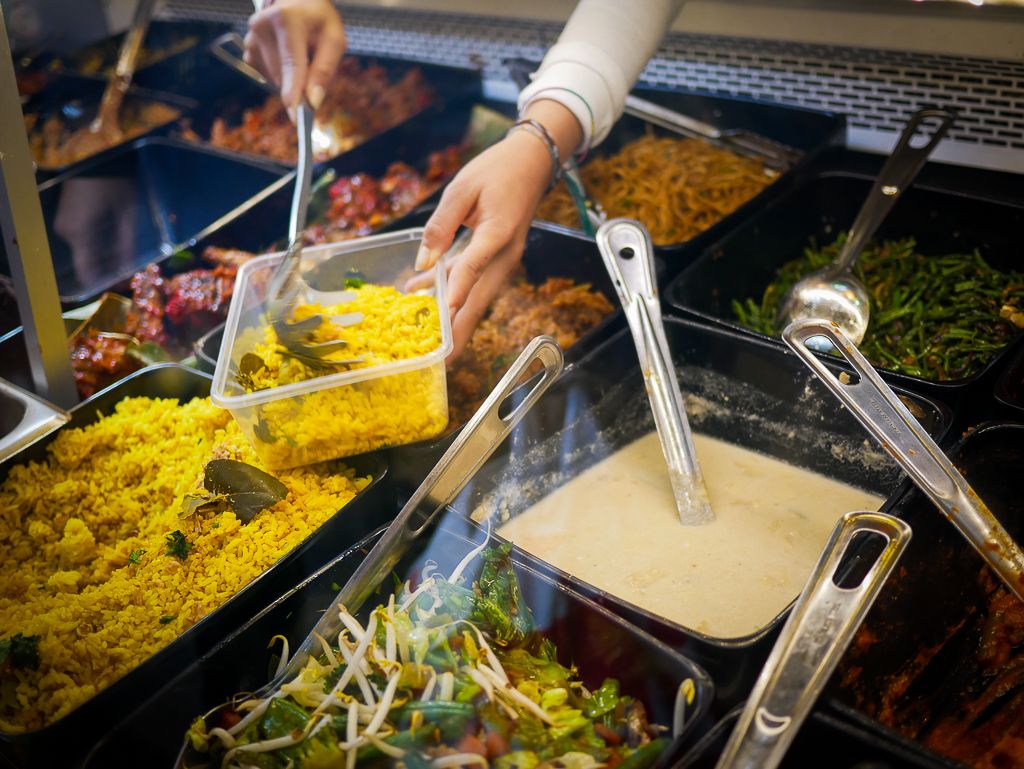 Waroeng Padang Lapek
If you're looking for a spicy food experience, Waroeng Padang Lapek is the place to be! Savour the truly authentic flavours of Padang in West-Sumatra at this wonderful food spot.
Waroeng Padang Lapek is all about the Nasi Padang kitchen. Nasi Padang is almost like a small banquet: a rice dish that is served alongside a variety of small dishes that includes meats, fish and vegetables.
My absolute favourite is their beef rendang, which quintessentially is a West-Sumatran dish, but can be found everywhere in Indonesia. I can hold a bit of spice, but with Padang Lapek's beef rendang I need at least a few spoons of rice to cool down the heat! The problem is their rendang is so incredibly addictive! Other dishes to try are the spicy eggs (sambal telor), the satay kambing ("goat" satay but that's replaced with lamb) and the jackfruit in coconut sauce.
Waroeng Padang Lapek
Schoolstraat 26,
2511AX The Hague
(The Hague centre)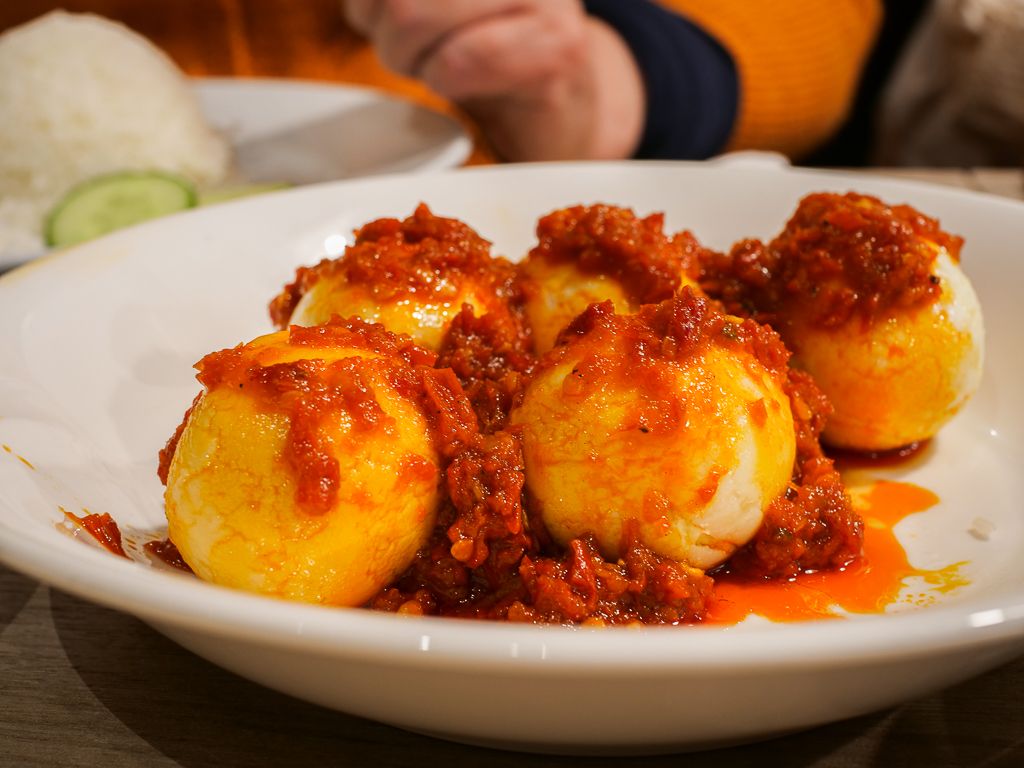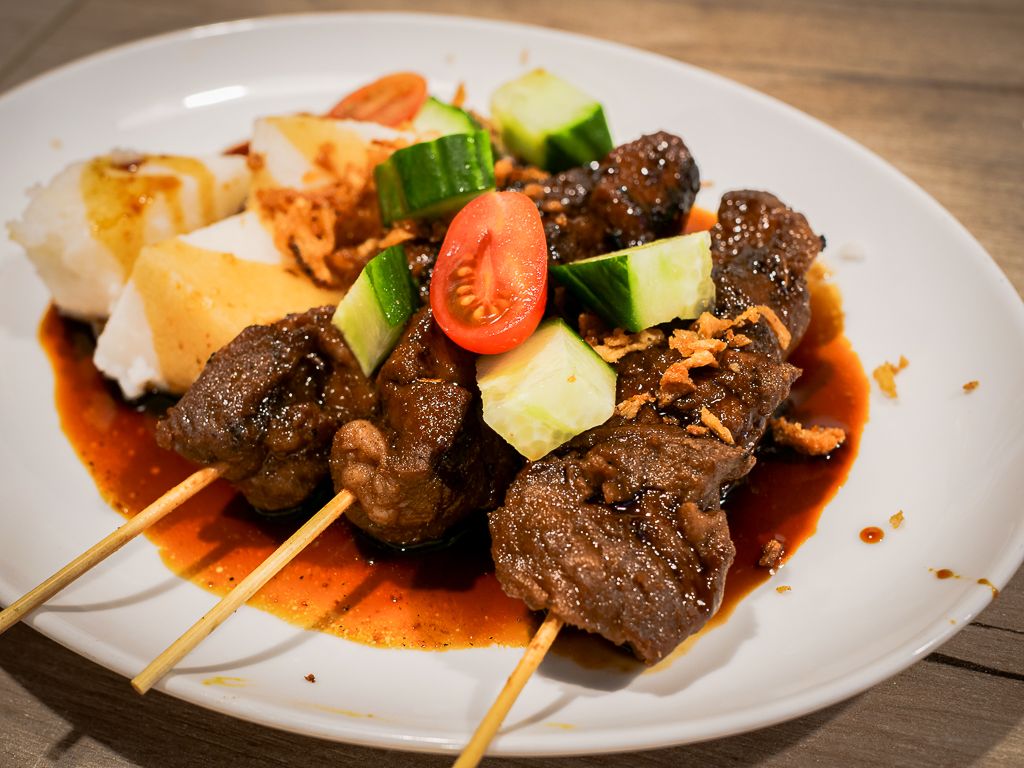 Het Balihuisje
In the mood for satay? Head down to Het Balihuisje, a laid-back restaurant in the Piet Heinstraat that specialises in BBQ satay. Their specialty is the Ayam Char Siu, a chicken satay with char siu flavours. Char Siu is originally a Cantonese roast pork dish, that's glazed with a special BBQ marinade. Although the Ayam Char Siu is really tasty, my favourite is their Ayam Original. Simply because the flavours take me back to the street vendors in Jakarta.
The chicken satays are grilled to perfection over hot charcoal, and served alongside a velvety and aromatic peanut sauce, crispy fried onions and tangy, refreshing 'atjar' or pickled vegetables to balance out all the flavours.
If you want to indulge in delicious BBQ chicken satay, you don't want to miss out on this modern Indonesian food spot in The Hague.
Het Balihuisje
Piet Heinstraat 62,
2518 CJ Den Haag
(Zeeheldenkwartier)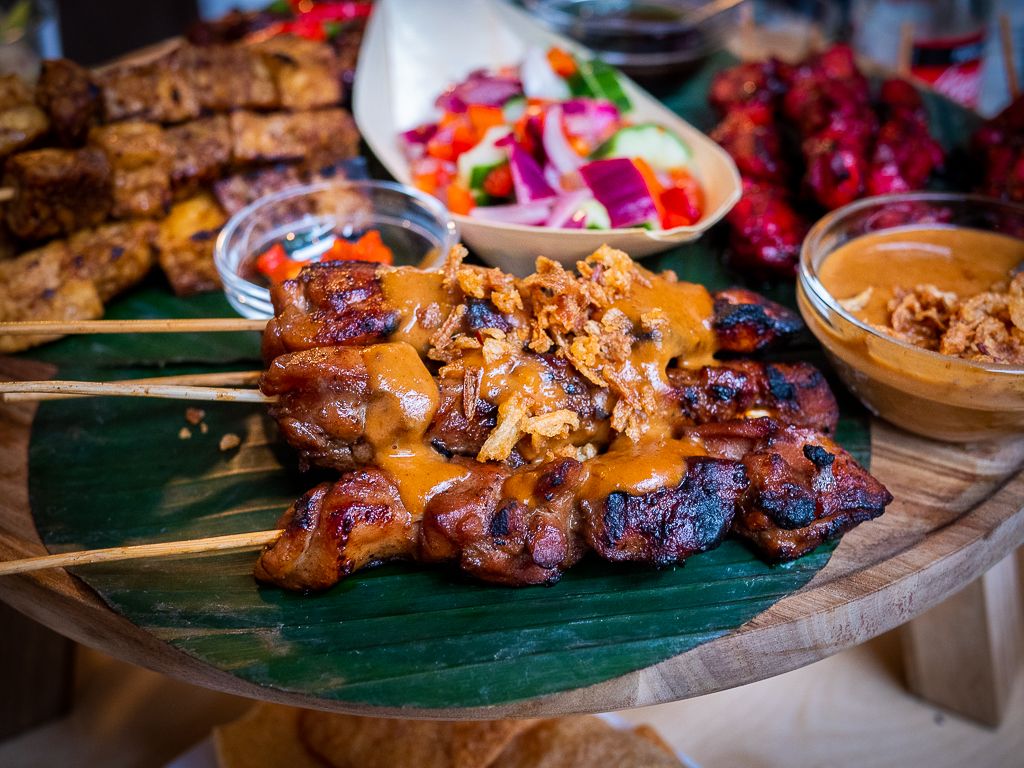 Isaku Iki
Isaku Iki means "this is me" in the Javanese language, a language spoken by people in the central and eastern parts of the island of Java. This family-owned eatery in the Anna Paulownastraat has been around since the late 1990s and serves unique dishes from the central part of Java. Dishes such as nasi gudeg, which is a delicious jackfruit coconut stew.
They also make great Indonesian snacks and one of my favourite is their lumpia Semarang, a springroll that originates from the city of Semarang and is filled with bamboo shoots, dried shrimps or chicken.
Isaku Iki also serves dishes from other parts of Indonesia such as mie bakso (noodles and meatballs). One of the dishes I keep coming back for is their Ayam Goreng Sukabumi, fried chicken coated with a delicious layer of herbs and spices. This establishment is the OG. The owners take pride in their recipes, and you can truly taste their passion in the food they serve.
Isaku Iki
Anna Paulownstraat 17
2518 BA Den Haag
(Zeeheldenkwartier)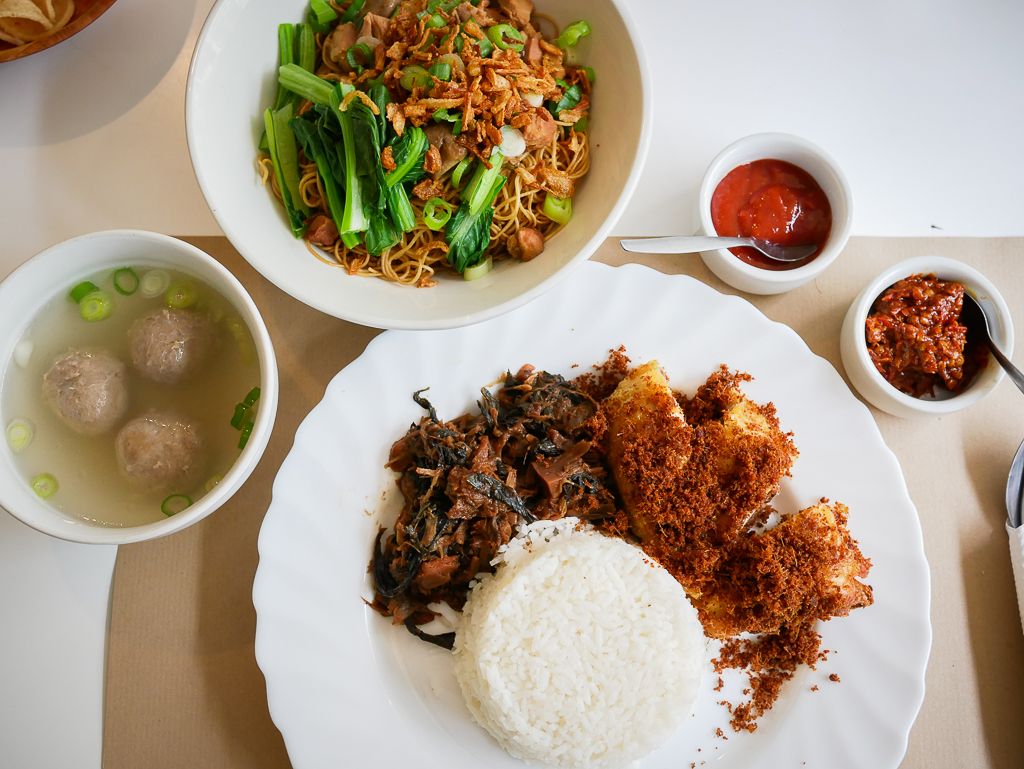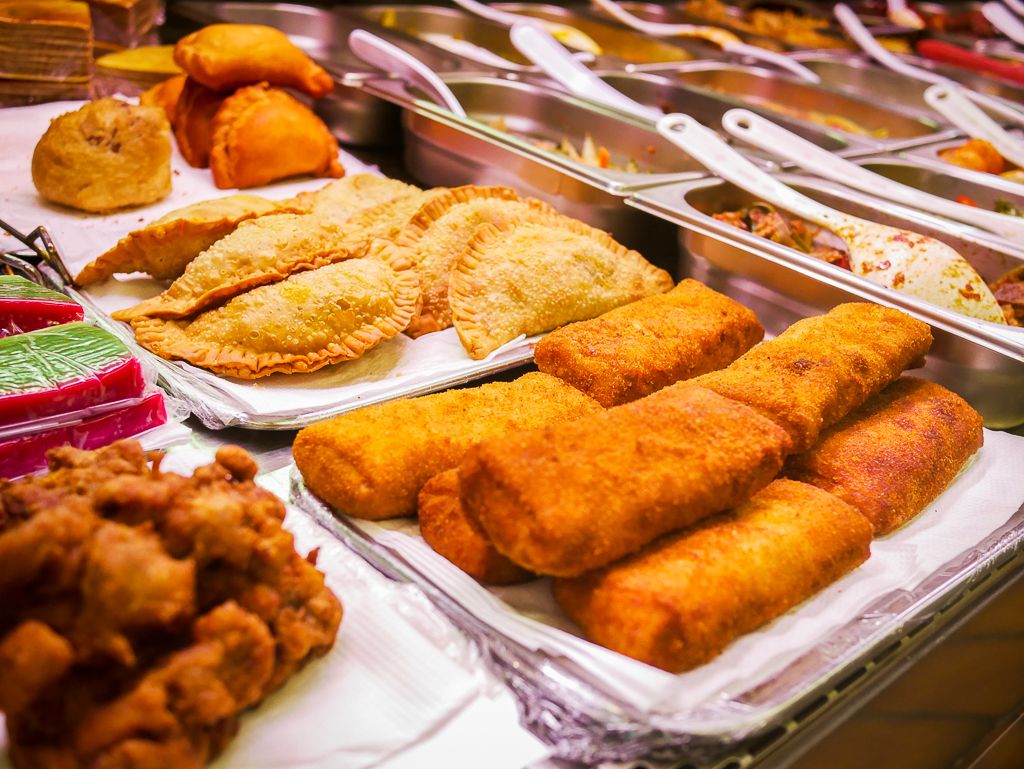 De Vegetarische Toko
This Indonesian eatery only serves vegetarian dishes. De Vegetarische Toko is run by a mother and son team and their concept of a vegetarian Indonesian food shop is truly unique to the Netherlands. The meat replacers are all plant-based and what is really interesting is that De Vegatarische Toko have found a way to replicate the texture of meat.
I really love their rendang and, no surprise, their vegetable dishes. All dishes are packed with spice and flavours, which are so addictive you'd want to go back again and again!
De Vegetarische Toko
Prins Hendrikstraat 150A
2518 HX Den Haag
(Zeeheldenkwartier)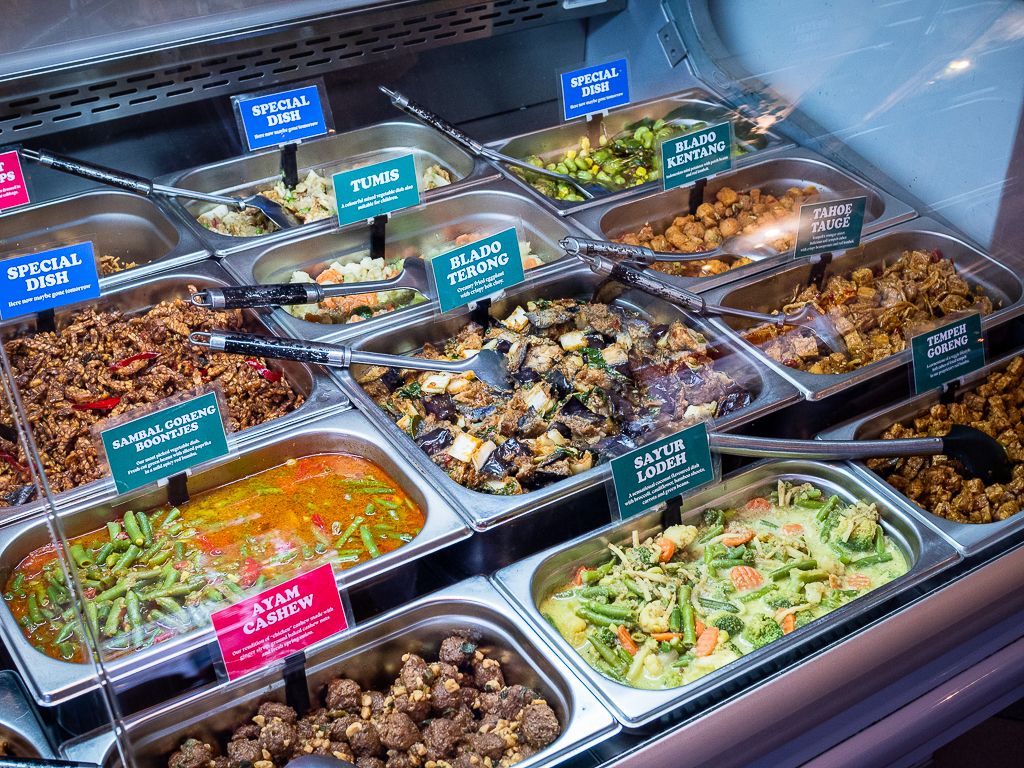 Food and memories
And there you have it, my personal top 10 Indonesian food spots in The Hague. Each one of them unique in terms of their speciality dishes and flavours. Each one of them somehow took me back to a childhood memory whether it was to my grandparents' house in Bandung, or my uncle's house in the Menteng district in Jakarta or to my childhood house in Bogor. Because this is what delicious food can do, it can transfer you to a special place that's tucked back somewhere in your memory and in your heart.
The Indo Food Tour
Interested in trying out these food places on a guided tour? Try the Indo Food Tour, which is organised by Helena Smit. Helena and her team organise a food tour around The Hague, focusing on Indonesian food and its rich history.
Join the newsletter to receive the latest updates in your inbox.